The best way to experiment with distributed computing is to have a distributed cluster of things to play with. One approach would of course be to spin off multiple Amazon EC2 instances, which would be wise and pretty cheap:
"Micro instances provide 613 MB of memory and support 32-bit and 64-bit platforms on both Linux and Windows. Micro instance pricing for On-Demand instances starts at $0.02 per hour for Linux and $0.03 per hour for Windows"
However some problems are better solved/simulated by having real, "touchable" hardware, that would have real dedicated disks, dedicated cores, RAM, and would only share any kind of state with other nodes over network. Easier said that done though.. Do you have a dozen of spare (same spec'ed) PCs laying around?
But what if you had an awesome training room with, let's say, 10 iMacs? That would look something like: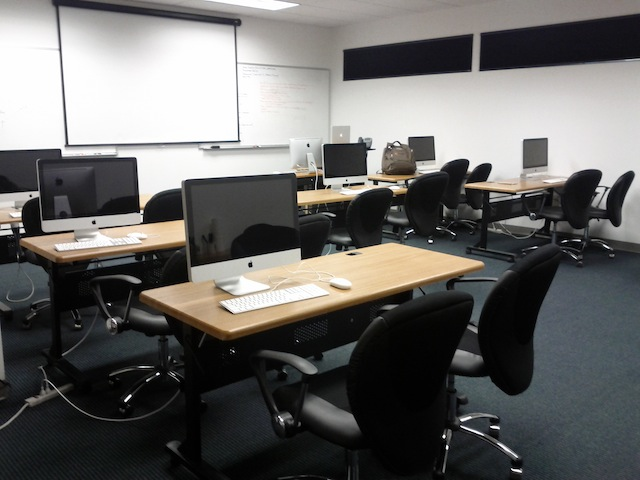 This is in fact the real deal => "Chariot Solutions Training Room", which is usually occupied by people learning about Scala, Clojure, Hadoop, Spring, Hibernate, Maven, Rails, etc..
So once upon a time, in after training hours, we decided to run some distributed simulations. As we were passing by the training room, we had a thought: "It's Friday night, and as any other creatures, these beautiful machines would definitely like to hang out together"…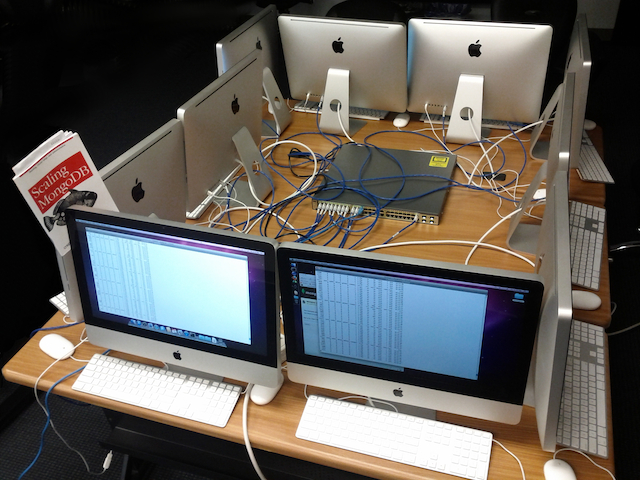 This is one of this night's highlights: a MongoDB playground. The same Friday night we played with Riak, Cassandra, RabbitMQ and vanilla distributed Erlang. As you can imagine iMacs had a lot of fun in a process pumping data in and out via 10 Gigabit switch. And we geeked out like real men!