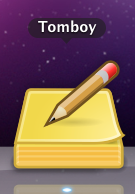 On "from Ubuntu to Mac" journey I don't leave my friends behind. Tomboy is such a friend. Plus I already have several hundreds on notes in Tomboy format, so the choice for a note taking app is very obvious here.
To install Tomboy on Mac there are only two things that need to be done:
1. Download Tomboy ( Mac App ): http://projects.gnome.org/tomboy/download.html ( unzip, copy to /Applications )
2. Install "Mono" framework (a .NET framework for *nix systems): http://www.go-mono.com/mono-downloads/download.html
To migrate existing notes ( e.g. *.note ), I had to do a 30 seconds digging. It appears that unlike on Linux, where notes live under "~/.tomboy", on Mac notes live under:
~

/

Library

/

Application Support

/

Tomboy

/
So that is the place to copy all the existing notes to. Once copied, Tomboy is all good to go.
Welcome to my new OS X world Mr. Tomboy!